Welcome to the  Transition Long Ashton website. Click on the list of pages – some of them reveal menus of other pages.
Apple Day is coming on October 16th. If you can help by donating a home-made cake/buns/biscuits/etc, please get in touch. The cafe is run by volunteers, and is a crucial part of the day, for punters and for helping cover our costs.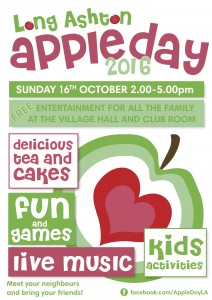 And the Community Garden group is now launching to create a lovely shared space in the village that anyone can enjoy. For more info or to get involved in this: [email protected]
Join our Facebook group: #mce_temp_url#
www.facebook.com/groups/transitionlongashton/
Subscribe to our emailing list to receive updates
Transition: building community towards a sustainable future……….
Transition is about meeting the challenges of Climate Change at a local level – the collective thinking and action that can produce all the local initiatives that have taken shape in our seven years of existence, and many more. By working for and with everyone in the community, we can make significant improvement in quality of life and sustainability ……….a resilient, rejuvenated, relocalised village.
This could be the outcome of the end of the age of plentiful cheap oil, if we prepare and work together for it.

The end of cheap oil
We are living at the peak of the oil age – a 50 litre tankfull of petrol delivers as much energy as a labourer working for 3 years! But it cannot continue – oil production has plateaued and will start to fall. Demand continues to soar – China's oil consmption is rising at 11% a year, and 98% of transportation uses oil. Renewables are the future, but cannot deliver enough to make up the shortfall. If we go for nuclear, uranium will run out in 40 years. So we need to plan for 'energy descent' – a reduction in energy use. And we need to make 80% cuts in carbon emissions to avoid catastrophic climate change. Transition is about this process.
You can download a 'Transition Primer' which will give you a good start in understanding what this is all about – go to <http://transitiontowns.org/TransitionNetwork/TransitionNetwork#prime> http://transitiontowns.org/TransitionNetwork/TransitionNetwork#primer <http://transitiontowns.org/TransitionNetwork/TransitionNetwork#primer>
Forthcoming events are listed on the right.
Contact us to join our emailing list and receive updates and news.
Get in touch if you have any ideas for what else we can do together.